Two TriWest Leaders Awarded National Achievement Medal by Vietnam Veterans of America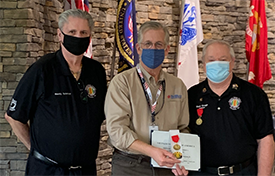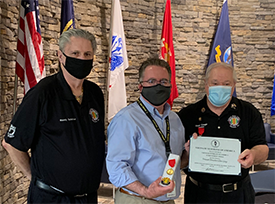 (Top to Bottom) Dave McIntyre and Glenn Gray
with members of VVA
December 11, 2020 – TriWest President and CEO Dave McIntyre, and Director of Customer Care and Community Relations Glenn Gray were recently honored by the Vietnam Veterans of America (VVA).
Both McIntyre and Gray received a National Achievement Medal and challenge coins from the state president of VVA. Each year, the state VVA president nominates individuals in the community for the VVA Achievement award, which is approved by the VVA awards committee and VVA president.
This award represents the dedication and outstanding work both TriWest leaders do to serve Veterans every day, making a difference in the community to help Veterans get access to the care they need. TriWest's leaders were also recognized because of their support of VVA, including their efforts to be out in the community engaging with Veterans, and reaching out to them with education and assistance.
Congratulations to Dave McIntyre and Glenn Gray for their recognition by community leaders for all they do to support our nation's Veterans.