Veteran Services: Honored To Do Our Part
Fulfilling Our Nation's Obligation to Veterans
TriWest Healthcare Alliance (TriWest) is honored and humbled to serve as a third party administrator for the Department of Veterans Affairs (VA) Community Care programs to provide quality and timely health care to our nation's Veterans.
Tens-of-thousands of VA employees deliver care to millions of Veterans through VA's network of medical facilities. In addition, there are times when VA turns to medical professionals in the community and asks them to serve, too, and help access to Veteran care. This is where TriWest comes in.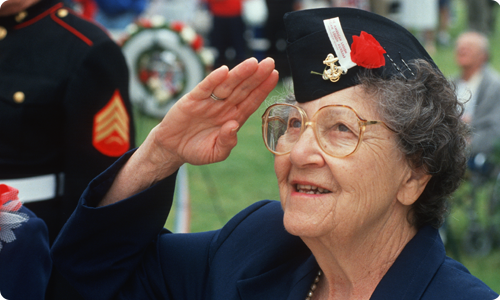 Seeking Care in the Community
Leveraging the provider network that TriWest has built, VA can call on TriWest to help coordinate Veteran care from a health care provider in the community. Every one of the 700,000 health care professionals in the TriWest network has to meet VA-required quality standards to ensure that Veterans always receive the highest quality care. Additionally, our health care providers make certain that Veterans' VA medical records remain updated by returning information about Veteran care and treatment to VA.
Veteran eligibility is determined by VA. Veterans will be informed of their eligibility by their local VA medical facility and/or if they've received a call or a letter from TriWest.
TriWest Serves Community Care Network Regions 4 and 5
VA purchases care in the community to ensure Veterans receive the health care services they need. The new consolidated approach to purchasing this care is through the Community Care Network, or CCN.
TriWest is VA's third party administrator for CCN Regions 4 and 5. CCN covers all U.S. states and territories with an established set of regional boundaries aligned to state borders to provide local flexibility and increased access to care. VA relies on the third party administrators to develop and administer regional networks of high-performing, licensed, and contracted health care providers.
VA Map of CCN Regions
Healthy Homefront®
TriWest wants to help you stay on the frontline of wellness. Visit our Healthy Homefront® website for health and wellness articles, links to various VA resources, and Veteran-focused good news stories. It is our goal to provide current Veterans, Veteran family members, people transitioning out of the military, and the general public with relevant, helpful information. Visit HealthyHomefront.com.
Learn More About Seeking Care in the Community
CCN will be the preferred national network VA uses to purchase care for you in the community. Link to VA's site for FAQs and more.
Register/Login for access to your eligibility information and check on the status of your referrals and claims for care in the community.
Updated: 10/2/2023 5:11:06 PM