Telehealth for Veterans
Providing Care from Afar When It Is Needed
Telehealth offers providers the ability to use technology to render care when a physical distance separates them from a patient. This helps providers meet a Veteran's need for care at a site closer to the Veteran's home or to make "virtual" house calls when traveling to another location is challenging. These options also assist Veterans in keeping up with the demands of busy life.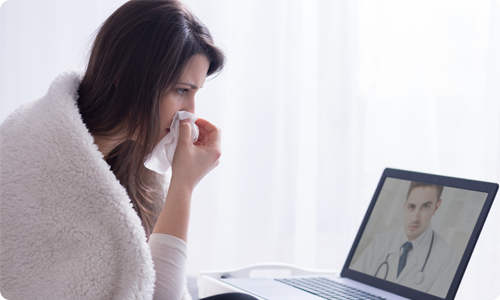 Some of the possible benefits of telehealth are:
Improved access
Reduced cost
Improved quality
With telehealth, physicians, health care facilities, and patients can experience improved access to health care services. Physicians and health care facilities have the capability to expand their service area to reach patients in distant locations. Veterans in rural communities, homebound Veterans, and others who face travel hardships have increased access to care using telehealth.
Reduction of the cost of health care by means of telehealth can take place through improved management of chronic diseases, reduction of the length or frequency of hospital stays, fewer missed appointments and the potential elimination of travel time and expenses for both patients and health care providers.
The quality of health care services, in some cases, can see an improvement to the traditional face-to-face or in person delivery of health care services. In addition to improved quality, some patients may experience greater satisfaction with their telehealth services.
Q: What is the difference between a telehealth visit, virtual check-in, and e-visit?
Telehealth Visit: The use of interactive audio and video communications in real time between a distant site provider and a patient at home (in-home telehealth) or at a local facility (point-to-point telehealth). This service can be provided for new or established patients.
Virtual Check-Ins: Brief 5-10 minute communications with established patients using various technology devices, such as phone or the transfer of recorded video and images, to determine whether an office visit or other service is necessary.
E-Visits: Communication between established patients and their providers through an online patient portal.
Q: Do I need special equipment in my home?
Yes, you will require a device that allows for the care to be delivered. If the care is telehealth then you will need a device with a front-facing camera for live video exchange with the provider, for virtual check-ins you would need a phone or a device that is able to capture video or still images and for e-visits you will need a device that allows access to website patient portals.
Q: Does VA cover telehealth visits?
Yes, telehealth visits are covered with an approved referral to receive care in the community.
Q: Will I have to pay out of pocket?
Veterans will never be required to pay for care in the community at the time of care. Based on your eligibility and the type of care, co-pays may be due directly to VA at a later time.
Q: Do I need a referral to see a provider via telehealth?
Yes, an approved referral is required to receive care in the community (excluding urgent care). If a provider offers telehealth, no separate referral is required to conduct the visit via telehealth. The original approved referral will be used to authorize care.
Q: Am I eligible to receive telehealth urgent care services?
Call 844-MyVA311 (844-698-2311) and select option 1, and then option 3, to verify your eligibility for telehealth urgent care services.
Q: Where can I find a telehealth urgent care provider?
To find in-network urgent care providers, visit the following link: https://www.va.gov/find-locations/
Identify a provider and call the number listed to determine if that provider offers telehealth services.
Note: Most national urgent care centers (e.g., CVS/MinuteClinic, NextCare, American Family Care) offer telehealth services.
Q: Will I be required to pay a copayment?
No, you will never be required to pay out of pocket for urgent care services.
Updated: 6/6/2023 11:26:44 AM